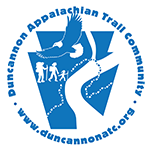 The next DATC meeting will be Monday, May 6th 2013 at 6:30 PM in the Duncannon Borough Office located at 428 North High Street.  All interested parties are welcome.
The agenda will primarily be focused on managing the upcoming Saturday June 1st, 2013 Duncannon AT Community Festival. Topics will include attracting more volunteers, vendors and attendees.
To receive timely meeting notifications via e-mail, signup for the DATC Newsletter and select "interested in meeting notifications".