If you have ventured into the wilderness to bask in the beauty of nature or if you have visited a local park to enjoy some time outside, then you are in good company. According to U.S. Census Bureau data for the year 2011, a little over 90 million people over the age of 16 (about 38% of the over-16 U.S. population) participated in outdoor related activities such as hunting, fishing or wildlife watching and even more to the point, 4 million of those people are in Pennsylvania and sharing the same resources as you (94). When you combine those numbers with 2011 National Park Service data stating that there were 278,939,216 recreational visits to national parks, it is easy to see that a massive amount of people are heading to the great outdoors for a little rest and relaxation.
People are drawn to places of outdoor recreation as a means of escaping the negative aspects of high-density living found throughout modern society. Unfortunately, as more people in densely populated areas visit the natural resources in their nearby geographic locations, the problems associated with elevated population levels such as traffic, waste disposal, criminal activities and noise pollution are tagging along for the journey. It's not that there is a shortage of wilderness in the United States – there are 1.45 million acres of state game land in PA alone (Commonwealth of Pennsylvania 14) – but as you approach more populated regions, the number of outdoor recreational areas rapidly decreases while the amount of people visiting them increases. This puts undo stress on our popular getaway locations and the people who visit them.
Fortunately there is a simple common-sense strategy to combat the overuse of shared outdoor recreational resources. It's called the "Leave No Trace" program and it has seven key concepts to make the time you spend in a natural setting more enjoyable for you and those who follow in your footsteps.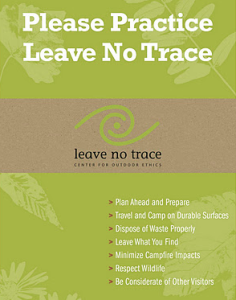 1) Plan Ahead and Prepare
2) Travel and Camp on Durable Surfaces
3) Dispose of Waste Properly
4) Leave What You Find
5) Minimize Campfire Impacts
6) Respect Wildlife
7) Be Considerate of Other Visitors
Plan Ahead and Prepare: Being prepared and planning ahead are the best ways to keep out of trouble or emergency situations so taking time to learn about the area you plan to visit and the rules that govern it is always beneficial. Dress appropriately and carry the supplies necessary for whatever adventure you might take. If you think ahead, you are less likely to find yourself in a compromising position like the unfortunate boater who got lost in the middle of the Canadian wilderness and had to chop down four utility poles, disrupting power to hundreds of people, so the power company would investigate and find him (Stranded Man).
Travel and Camp on Durable Surfaces: The reason you should travel on durable surfaces Continue reading →