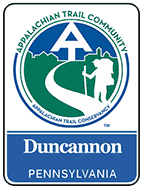 NEXT MEETING: The Duncannon Appalachian Trail Community Advisory Committee will hold its next meeting Wednesday, March 12th at 6:30 PM in our new meeting location at the Duncannon Municipal Building located at 428 N. High Street.  An RSVP is not required but it's greatly appreciated.  Our agenda will focus on relocating the Duncannon A.T. Community Festival to somewhere other than the planned Cumberland Street location and we'll also discuss the progress our volunteers have made.
NEW FESTIVAL LOCATION:  The planned Cumberland Street festival location must be moved because the Market Street bridge construction project's detour route will run the entire length of Cumberland Street and there are no other viable alternate detour routes.  We had planned to use the south end of Market Street as our backup festival location but there is not enough room since the construction equipment will take up a large portion of the street.  Please join us to help choose a new festival location.  If you would like to meet before sunset (around 6:05 p.m.) to view alternate locations, please contact DATC@DuncannonATC.org and we can schedule a tour of potential festival locations.
POTENTIAL NEW FESTIVAL LOCATIONS: Everyone is invited to review the following locations and then vote for your favorite.  The pink shapes on the map images are potential Presentation Areas.
1) Duncannon Area Park (Cooper Field): https://goo.gl/maps/XjEXP
It has almost everything we could want.

Open green area to accommodate any vendor configuration.
Plentiful parking
Access to electricity
Pavilion
Bandstand
Restrooms

Not everyone knows where it is or how to get there.  Here is a link to the Duncannon Community Map where it's listed under Recreation Areas.
Traffic access is a bit limited due to narrow one way streets.
There is no nearby place for indoor presentations requiring video.
It is not on the Appalachian Trail.
Its isolation doesn't seem to "feature" the town of Duncannon.
Previous town events moved to this location had a noticeable decline in attendance.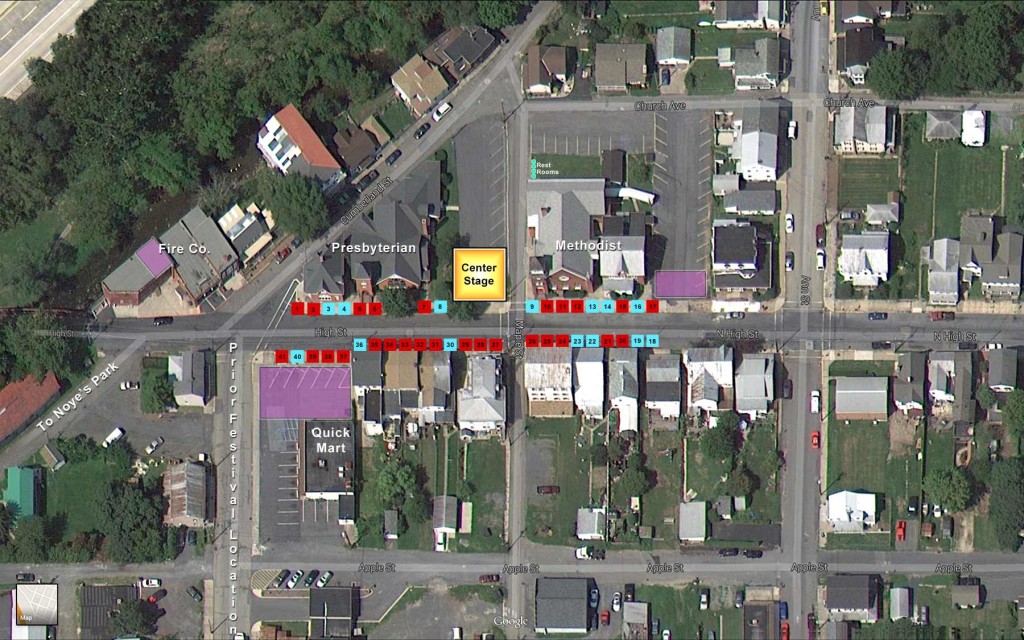 2) High Street: http://duncannonatc.org/temp/Festival-Layout-HighSt.jpg

 It is just around the corner from the previous Cumberland Street location.
It's on the Appalachian Trail.
There is a fair amount of parking in nearby church lots.
We're still close to Noye's Park.
Still near the Fire Company and their Fire Hall for indoor presentations and restrooms.
Not on the square but still in town.
"MAYBE" use a church for indoor presentations.
"Probably" get electrical hookup from a church.
Centrally located stage area.
Requires permission from one church.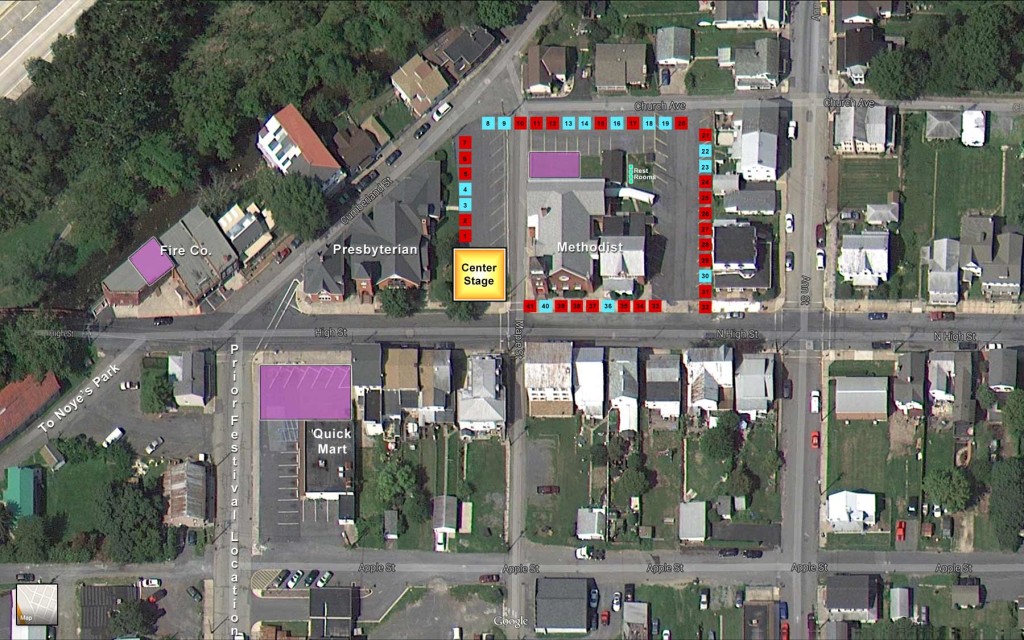 3) High Street Church Lots: http://duncannonatc.org/temp/Festival-Layout-Churches.jpg
This area lends itself very well to vendor placement.
Easy to add more vendors due to abundant space.
Can branch out into High Street if desired.
Still, sort of, on the Appalachian Trail.
"MAYBE" use a church for indoor presentations.
"Probably" get electrical hookup from a church.
We lose a fair amount of parking spaces and there aren't many alternatives in the area.
A little further away from the Fire Co. and Noye's Park.
Requires permission from two churches.
Your opinion is very important to us!  PLEASE vote for your favorite location.
OUR PREVIOUS MEETING: Here is a list of some of the topics that we covered at our last February 12th DATC meeting:
Churches don't need a permit to sell food at the DATC Festival.
We have submitted our festival information to the Duncannon Borough newsletter.
We have been granted permission to use the Duncannon Municipal Building for all future DATC meetings on the second Wednesday of each month.
Continue advertising upcoming meetings on local free cable channel.
Reconnect with 4H regarding participation in DATC Festival.
We will attend the Little Buffalo Festival on Saturday, October 4th to promote the DATC.
The DuncannonATC.org website is generating more traffic thanks to quality content.
We visited the "Winter Warmer" folks at the Doyle and talked with prominent thru-hikers.
Approved Mixed Not Stirred, Perry County historian Dennis Hocker, Wildfire Pottery, Appalacian Primitives, and SisterDogs as DATC Festival Vendors.
Decided to wait until the map on back of the DATC promotional brochure is complete rather than printing a smaller brochure without the map.
Agreed to distribute DATC static window clings to DATC contributors.
We still need more plastic peanut butter jars and lids for our raffle display.  Please bring them if you have them.
Please contact us at datc@duncannonatc.org if you would like to help us achieve any of the above goals.
JUNE 21ST FESTIVAL: The Duncannon Appalachian Trail Festival will take place on the third Saturday of June (June 21, 2014) and we need to get the word out to as many residents, volunteers and vendors as possible.  Be sure to tell all your friends and associates!  We have a printable PDF document that you can use to help recruit potential volunteers and vendors and we also have a Vendor Registration page where vendors interested in attending our Duncannon A.T. Festival can sign up for vendor spaces.  If you're a vendor or if you know a vendor, now is the time to register!  If you'd like to volunteer to help with the 2014 festival you can sign up online or attend a meeting for more information.
DUNCANNON OUTDOOR CLUB HIKES:  On Saturday, March 15th hike an average paced loop hike for 1.73 miles over easy terrain at the Joseph Ibberson Conservation Area. This is an easy hike for the whole family, ages 6 and older. Learn about the importance of vernal ponds and the migration of the Jefferson Salamander. Meet at the Duncannon Family Health Center at 51 Campus Business Way in Duncannon. Meeting time is 9:00 am. Call 834-9216 or email dtakach@duncannonatc.org to register. The conservation area is about 25 minutes from Duncannon.
The Duncannon Appalachian Trail Community (DATC) and the Duncannon Outdoor Club (DOC) are hosting another Haldeman Island Waterfowl Hike.  Everyone is invited to attend but we especially encourage people with children to enjoy this fun and highly educational opportunity.
The Haldeman hike will primarily focus on migrating waterfowl and as many as 20 species could be spotted on both the island and the river. Dress appropriately for the weather, wear one extra layer for the wind, and wear neutral colors to help keep our presence muted. We encourage you to bring binoculars, spotting scopes, cameras, and a bird guide. The length of the walk is but a few miles on level ground. Appropriate footwear would be warm hiking boots.
Haldeman Island is located at the confluence of the Susquehanna and Juniata rivers.  Access is usually restricted to provide sanctuary for a wide variety of birds including the iconic Bald Eagle so don't miss out on a rare chance to experience and learn about this wonderful Duncannon area natural resource. Call 834-9216 or email dtakach@duncannonatc.org to register. Haldeman Island is about 5 miles north of Duncannon.
NEW ARTICLES ON THE DATC WEBSITE: Be sure to check out these new articles:
JOIN US OR HELP LEND A HAND: Anyone who would like to be involved with the DATC, offer guidance or influence its policies is welcome to attend our meetings. You might find a volunteer opportunity that suits you in any number of fields such as: planning our next 2014 DATC Festival, fundraising, supporting the Duncannon Outdoors Club, learning about Appalachian Trail maintenance and inspiring people to enjoy outdoor activities in the Duncannon area.