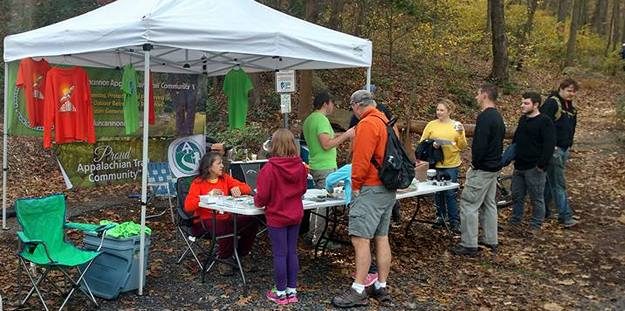 Many people told us they wanted to buy a super awesome "I hiked to Hawk Rock" shirt but they couldn't come to Hawk Rock to buy one in person. That's why we're currently accepting orders for more shirts via email until Wednesday November 23rd. Shirts ordered before November 23rd will be available for pickup at The Doyle Hotel starting Saturday, December 3rd. And to show our appreciation for The Doyle's cooperation, the DATC will donate one dollar to The Doyle for every shirt you buy!
These high performance orange shirts are soft to the touch, 100% polyester, jersey knit, Aqua FX ® (for wicking properties), Freshcare ® (for anti-microbial properties), and darn good looking too. Long sleeves are $20 and short sleeves are $15 (2XL and 3XL are $3 more).

You can also order our green short sleeve DATC logo shirts for only $10. They're 50/50 Poly/Cotton and come in sizes S, M, L, XL, 3XL, and 4XL (3XL and 4XL are $2 more – 2XL are sold out).
Send an email to shirts@duncannonatc.org before November 23rd and your order will be ready for pickup at The Doyle on December 3rd. Be sure to specify quantity, color (orange or green), sleeve length, and size when ordering.
We look forward to hearing from you. You're going to look great in these shirts!