"Appalacian Primitives" is an outlet for Sheldon Ott's generosity.  After retiring in 1997,he spends his spare time building rough primitive furniture with an inner beauty that suits his utilitarian aesthetic and then distributing it to people at a price near the cost of materials or, as is often the case, for free.  Appalacian Primitives has donated over 50 different pieces of furniture to various groups throughout the Duncannon region such as community parks, church fundraisers, auctions for charities and generally anyone Sheldon takes a liking to.
The Duncannon Appalachian Trail Community has been fortunate enough to receive one of his tables as a gift and we will be raffling it off during the upcoming Little Buffalo Festival on Saturday, October 5th.  Simply stated, it's a couch/hall/television table made form distressed old walnut barn planks with a teak oil finish but we think it's so much more than that.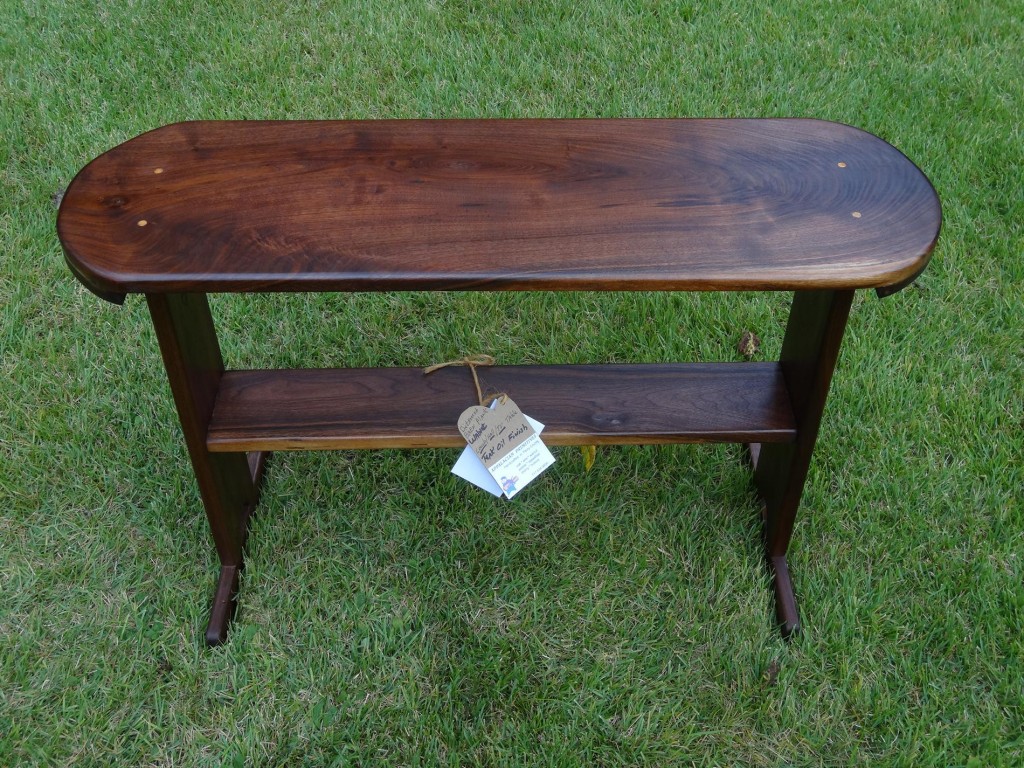 The age and character of the wood is what Sheldon strives to emphasize when envisioning and building his projects. He won't start off with a perfectly sawn board that he could buy from any lumber yard, instead he searches for old worn timbers with water marks or odd grain patterns which wouldn't appeal to most other carpenters.  Once he finds the perfect plank he takes the time to imagine what it could become.  He takes the flaws and defects of the wood and emphasizes them in such a way as to build charm and character.  He will tell you that he's NOT a skilled carpenter but I will tell you that he IS an artist with vision and the skill to bring that vision to life.
Now I'm not supposed to be telling you all of this because Sheldon Ott wants people to enjoy his work and his generosity and not focus on him so much.  His pleasure is in spending time doing what he enjoys and sharing his joy with others.  So I guess I'll just say this, Appalacian Primitive furniture is for sale at VERY reasonable prices at My Wife's Barn and at local festivals and community events in the Duncannon area.  Come out and visit us at the Little Buffalo Festival and feel free to look at, touch and experience Sheldon's work, I'm pretty sure he would like that.