Duncannon is one of the few official Appalachian Trail Communities and we are eager to share the pride and enthusiasm of being part of a national treasure.  Join us for a family-friendly festival while learning about the Appalachian Trail and other outdoor opportunities in Central PA.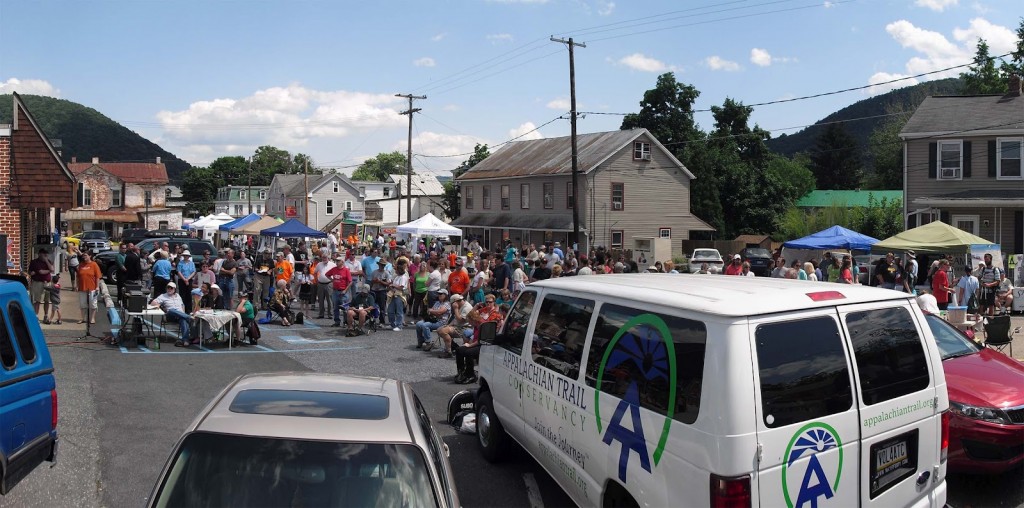 We will celebrate our next annual Duncannon Appalachian Trail Community Festival on Saturday, June 20th, 2015.  There will be hikes and outdoor activities in the morning and from noon to 4PM there will be entertainment, exhibits, presentations and vendors near the town square on High Street between Cumberland and Ann streets.
Quick Links
Attractions • Hike Info • Live Music • Raffle Prizes • Parking & Directions • Vendor List • Crafts for Kids • Festival Friends • Join the Fun • Mission Statement
Coming Attractions:
Admission and all presentations are FREE!
Smokey the Bear will be there to raise fire prevention awareness.
Live Musical Entertainment throughout the day.
Live Raptor Presentation (birds of prey)
Over $300 of Raffle Prizes donated by vendors.

One Free Raffle Ticket

for every attendee! (Children must be accompanied by an adult)
Hiking and Outdoor Clubs.
Food vendors.
Arts and Crafts vendors.
Craft Activities for Kids
BBQ Chicken served by the Duncannon Fire Company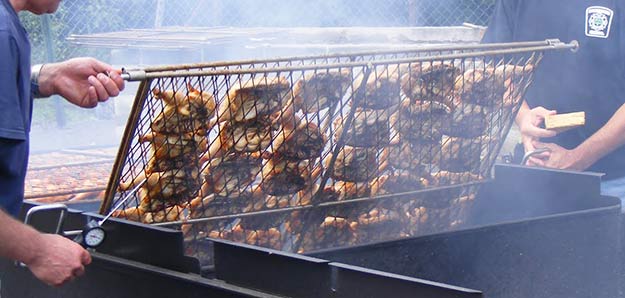 Take a Hike!
Some of the hiking clubs at the festival will be leading their own hikes in the morning and they encourage the public to join them for a fun time hiking the Duncannon area trails. Some hikes are easy while others are more challenging so be sure to find a hike to match your abilities.
Live Music

There will be live entertainment featured throughout the day.  Stop by the main stage and enjoy:
There's always something happening on the stage throughout the day. Whether it's great family-oriented tunes, live birds of prey, or the allure of free prizes; the Duncannon Appalachian Trail Festival will lift your spirit with its lively festive atmosphere; don't miss out on the fun.
Raffle Prizes!
Everyone will be given a free ticket just for showing up at the DATC booth on High Street and getting their hand stamped (children must be accompanied by an adult).  The DATC will also be selling raffle tickets to help support the Duncannon Appalachian Trail Community so be sure to increase your odds of winning by purchasing extra tickets for $1.00 each.
Check Out These Great Prizes:
| | |
| --- | --- |
| D O N O R | P R I Z E |
| Appalachian Brewing Co. | ABC trail pack, contains: 1 growler, 4 pint glasses, and a gift card to fill the growler with your favorite ABC soda. |
| Appalacian Primitives | Drop-Leaf Barn-Oak Side/Lamp Table with Teak Oil Finish |
| Backlb | A camo carry bag |
| Bee's Creations | Hanging kitchen towel |
| Colleen Heim – Seedware Design | Pair of peach seed earrings |
| Country Yoyo's | Burlap item or yoyo place mats, Doily. |
| Crafty Nana | A colorful birdhouse. |
| Crissy`s Homemade Crafts | A Renuzit Bunny |
| CruiseOne – J C Smith Travel | Mildred Seeley "Antique Doll Collection" Limited Edition Plate |
| Cups for Kings and Queens | Glazed wheel-thrown goblet |
| Dairy Air Soap and Country Candles | Goat Milk Soap Candle |
| Designs By Debbie Good | A necklace and matching earring set |
| Driftwood Creations | Hand-carved cedar hiking stick |
| Grooming by Heather Harris @ Wee Wee Walkers, Duncannon | A gift certificate for a full dog grooming OR a basket of dog related items |
| Harrisburg Area Lyme Disease Support Group | Two 4-oz, bottles of Cedar Oil, an all natural tick repellent |
| JCoolbags | One of our coolerbags ($20 value). |
| Jewelry Designs By Helen Ritter | Jewelry Set |
| John Whitney (from Gallery@Second) | Beautiful painting of local nature scene |
| K & K Kreations | Cup and saucer, bird feeder on a pole |
| Lofty Creations | A set of hand-painted wine glasses |
| Made by Meli Clo | Handmade nursing cover or baby blanket |
| Members 1st Federal Credit Union | Gift basket. |
| Moonbeam Meadow Fairies & Paper Pretties by Tina | A Flower Fairy or Angel |
| Mutzabaugh's Market | $50 in Mutzy Money |
| Ned Smith Center for Nature and Art | Framed miniature print of a Ned Smith art piece. |
| New York Life | Mutzie Money |
| Nightwisp Designs | A hand wrapped agate pendant with a retail value of $19 |
| Noaker's Auto Body and Sales, LLC | Free car detailing |
| Notes with Nature in Mind | Box of notecards |
| Oodlesofbows | Hair bow gift basket |
| Paul Gilbert | Hand turned bowl |
| Perry Heritage | Latest book "Historic Views of Perry County" Volume 1 |
| Phoenix Pottery Studio |  Phoenix Pottery mug |
| Phil's Concessions | 2 Cases of bottled water. |
| Prims 'n Things | Handmade lathe mirror with vinyl decal ($19.99 value). |
| Quilts & Crafts by the Queen Bee | Single Strand Magnetic Bracelet with Semi Precious Stone Beads. |
| Road Hawg BBQ | Gift Certificate for Road Hawg BBQ |
| Rockwood Soy Co. | A gift basket |
| Sara's Sew Creative | Zipper pouch and key chain set |
| Sawmill Creek Body Co. | A basket with candles and body care products |
| Sea Glass Jewelry | Sea Glass Necklace |
| Sisterdogs – Hot Dog Cart | Sisterdogs T-shirt |
| SLG Crafts | Sun catcher |
| Susquehanna AT Club | Joint one year membership to SATC |
| Tande Farmers Market | Canvas, child-size produce bag with 3 felt vegetables. |
| Tastefully Simple and Noah's Ark | Cake mix |
| The Paisley Patch | Wreath |
| Thunder Ridge Kettle Corn | Two gift certificates for free large bags of Kettle Corn |
| Trippy T's LLC | A Trippy T's tie dye shirt. |
| Uglie Acres | Basket of assorted jams |
| Wildfire Pottery | A piece of pottery |
Parking and Directions
On the day of the festival, you can park along the streets where it is permitted or you can park in one of the lots shown on the map below.
God's Missionary Church Lot
Old Sled Works South Lot
Clark's Ferry Commuter Lot (2 mile scenic hike to festival)
American Legion Back Lot (walk 330 yards to festival)
(AFTER 1PM) Blue Ridge Communications Lot
Festival Vendors
Crafts for Kids
There are plenty of activities to keep the kids happy and entertained so bring them along for a fun day at the festival.
| | |
| --- | --- |
| | Wacky Hats Make a Wacky Hat out of paper plates for your next hike. We have frog hats, monster hats, bee hats, palm tree hats, hats with glasses, castle hats, and flamingo hats. Take your pick and decorate your hat or if you are older you can cut out your hat too. |
| | Bear Chasers What can you do with a cardboard tube? You can make a Bear Chaser that makes a humming noise so you can scare away bears as you are hiking. Decorate your tube and cover one end with wax paper or foil wrap that you cut out yourself or get help from a volunteer. |
| | Mustaches Make a mustache out of black construction paper and put it under your nose so you look like a hiker who has spent months on the trail. |
| | Wrestling Hikers Decorate two clothespins to look like hikers and connect them with a rubber band. Wind them up, let them go, and watch the action to see which hiker lands on top for the win. |
| | Racing Turtles Make one or two turtles out of white cardboard by decorating them with markers. Add a long string and tie it to something about the height of the turtle. Little tugs on the string cause the turtle to race slowly (remember it is a turtle) along the string away from you. |
Festival Friends
The following organizations have made significant donations or contributions to help fund the 2015 Duncannon Appalachian Trail Community Festival and we greatly appreciate their help.
Join the Fun
We're looking for volunteers to help make this festival a great day for everyone.  Enjoy a fun day outside with your fellow Duncannon enthusiasts.
If you're interested in being a volunteer at the festival, please contact us for more information.
Why We Do It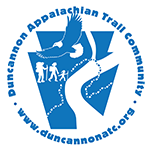 The Duncannon Appalachian Trail Community (DATC) is dedicated to promoting, protecting and preserving our outdoor recreational resources for future generations. We implement projects and programs to enhance tourism opportunities for Duncannon as an outdoor recreation destination and we encourage everyone to get outside, enjoy nature and recognize the connection between the health and abundance of the region's natural assets and the vitality of its communities.
Come out and enjoy a fun day in Duncannon!   We hope to see you there!
Stay tuned for more information about this exciting event!