Duncannon is one of the few official Appalachian Trail Communities and we are eager to share the pride and enthusiasm of being part of a national treasure.  Join us for a family-friendly festival while learning about the Appalachian Trail and other outdoor opportunities in Central PA.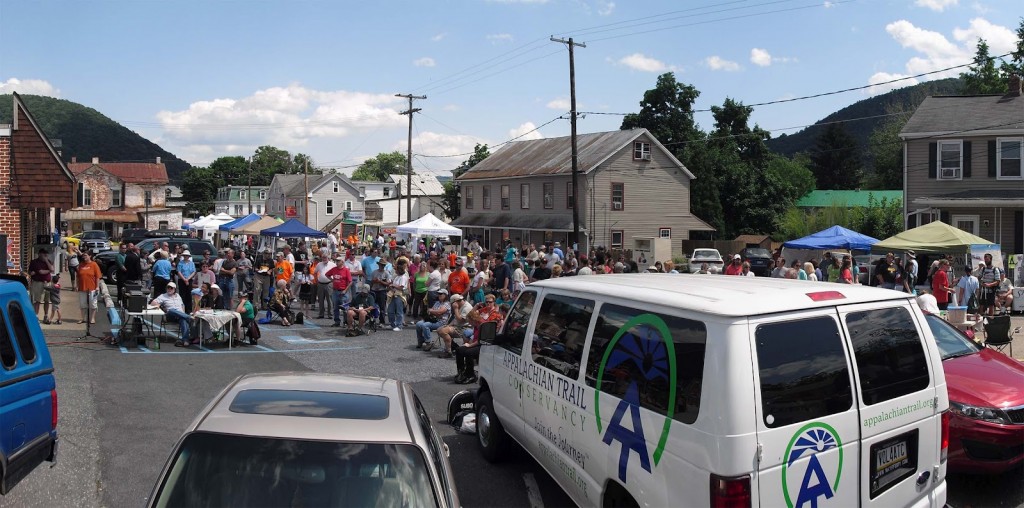 We will celebrate our next annual Duncannon Appalachian Trail Community Festival on Saturday, June 21st, 2014.  There will be hikes and outdoor activities in the morning and from noon to 4PM there will be entertainment, exhibits, presentations and vendors near the town square on High Street between Cumberland and Ann streets.
Quick Links
Attractions • Hike Info • Presentations • Live Music • Raffle Prizes • Commemorative Tokens • Parking & Directions • Vendor List • Festival Friends • Join the Fun • Mission Statement
Coming Attractions:
Admission and all presentations are FREE!
Shavers Creek Raptor Exhibit with live birds of prey!
Smokey the Bear will be there to raise fire prevention awareness.
Audubon Birding presentation by the knowledgeable and talented Paul Zeph.
Photography Presentations by top notch photographers.  Be sure to bring your camera!
Warrior Hikers, veterans hiking the AT to help fellow veterans, tell their story.
Perry County History presentation by author Dennis J. Hocker.
Live Musical Entertainment throughout the day.
Over $500 of Raffle Prizes donated by vendors.

One Free Raffle Ticket

for every attendee! (Children must be accompanied by an adult)
Hiking and Outdoor Clubs:

Food vendors.
Arts and Crafts vendors.
Take a Hike!
Many of the hiking clubs at the festival will be leading their own hikes in the morning and they encourage the public to join them for a fun time hiking the Duncannon area trails.  Some hikes are easy while some are more challenging so be sure to find a hike to match your abilities.
Live Music
1:00 to 1:45

– CrossCountry – The "Makes You Feel Good Music" group was the result of a chance meeting of long-time Pennsylvania musicians Dave Snyder, Carl Weidenhof, and, music newbie (with the voice of an angel) Rebecca Lewis. The harmonies emitted that day and throughout the next year formed the beginning of CrossCountry. They quickly gathered a substantial following whenever they performed.

2:00 to 4:00

– Walt Crider and the Old Time Way – A five-piece band playing old time bluegrass blended with some old country sung from the heart. They play a great mix of traditional bluegrass, which any true fan of music would enjoy and they are entrenched in playing music that reflects their love of heartfelt lyrics, solid patriotism and gratitude for sacrifices made by those who have valiantly served this country.  Don't miss out on this great band!
Presentations
There will be a variety of presentations taking place throughout the afternoon between 12:00 and 4:00.  There is an indoor presentation area and an outdoor presentation area.  The indoor presentation area will be in the Duncannon Fire Company Fire Hall, located at the corner of Cumberland and High streets, and the outdoor presentation area will be in the Quick-Mart parking lot across the street.  Don't miss these great, informational, educational, fun, and entertaining presentation events!
Outdoor Presentation Schedule:
12:00 to 12:30

– Warrior Hikers "Walk off the War" – Veterans raise awareness of wounded warriors by walking the entire Appalachian Trail.  Come hear their story.

12:30 to 1:45

– Shaver's Creek "Birds of Prey" – Showcases live raptors to teach natural history and the challenges facing eagles, falcons, hawks and owls.

2:00 to 3:25

– Introduction to Backpacking – Veteran backpacker Tom Morley of York Hiking Club teaches the basics of this family-friendly recreational sport.

3:25 to 3:45

– Raffle Prize Drawings – All of the prizes donated by participating vendors will be distributed to their lucky winners!

3:45 to 4:00

– Closing Ceremonies.
Indoor Presentation Schedule:
12:30 to 1:00

– Meet The Photographers – Have questions about one of the presentations? Confused about one of the settings on your camera? Want to learn how to take better pictures? This is a 30-minute open session designed to allow you to mingle with the Photographers and ask questions.

1:00 to 1:30

– What Is Abstract Photography? – by Jason Langheine a freelance photographer specializing in Commercial Photography. Jason will give a brief explanation of abstract photography and then give a demonstration creating some fun abstract images as the crowd watches.

1:30 to 2:00

– Birds of Duncannon – Paul Zeph of Audubon Pennsylvania talks about the birds you are most likely to see in Duncannon.

2:00 to 2:45

– Perry County Heritage Collection Stories – Author Dennis J. Hocker examines Perry County's past to provide insight to its current state.

2:45 to 3:15

– Portraiture & Group Photography – Gary Edmiston (hipfotoguy) a freelance photographer who enjoys portraiture and head shot photography will demonstrate simple lighting setups & techniques while using different types of soft boxes, color gel, barn doors, grids, etc.

3:15 to 3:30

– Meet The Photographers – An open session encouraging you to mingle with the photographers and ask questions.

3:30 to 4:00

– Photo-Walking: Exercising Your Creativity – by Michael Dunmire a freelance photographer & our Photography Event Coordinator. Mike will take a few minutes to discuss Photo Walking, followed by a mini-Photo Walk with attendees. We'll discuss what it is, why should you do it, how to find other people to walk with, preparation and what to look for.
Raffle Prizes!
Everyone will be given a free ticket just for showing up at the DATC booth on High Street and getting their hand stamped (children must be accompanied by an adult).  The DATC will also be selling raffle tickets to help support the Duncannon Appalachian Trail Community so be sure to increase your odds of winning by purchasing extra tickets for $1.00 each.
Win These Great Prizes:
Appalachian Brewing Company – Several growlers filled with our craft soda of the winners choice.
Appalachian Long Distance Hikers Association – To be determined.
Appalachian Trail Conservancy – Clothing, a map or a book.
Appalacian Primitives – Walnut table with teak oil finish.  See it here.
Audubon Pennsylvania – An art print of the snowy egret in a stream, and an Audubon hat.
Bald Eagle Gold Prospectors – A gold pan and a bag of "Pay Dirt" that has been salted with actual gold. They can use the pan to pan out their pay dirt! Members can show them how!
BLF Original Jewelry – A matching necklace and earring set ($35 value).
Brushwood Farm – Gift basket with soap.
Buddy Boy Winery – A $20 gift card.
Crafty Nana – A birdhouse or feeder.
Discovery Toys – "A-B-Seas" game.
Driftwood Creations – Hiking stick.
Duncannon Appalachian Trail Community – DATC T-shirt.
Duncannon Otterbein United Methodist Church – Hot dogs etc., baked good and a drink.
Duncannon Outdoor Club – A book.
Four Winds Trade Company – fresh hand dipped incense and an incense burner
Fuhrman's Wood Crafts – Hand turned wooden bowl. All bowls are food safe.
Gordie's Goodies – One variety pound of fudge and a jar of strawberry jam and a jar of apple butter. Value: $24.50
Hook & Needle Crafts by Wanda – Hand-crocheted Ruffle Scarf.
John Whitney (from Gallery@Second) – Beautiful framed painting of The Confluence of the Susquehanna and Juniata Rivers.
Joy Arts – A painting.
K&K's Paparazzi Jewelry – A jewelry basket ($20 value).
Kettle Corn Creations – $20 donation.
Keystone Trails Association – Hiking boots, Pennsylvania Hiking Trails Map and one year membership to Keystone Trails Association.
Lyme Disease Support Group – 2 bottles of Cedar Oil, Natures Tick Repellent.
Mixed Not Stirred – Gift certificates.
Mountain Club of Maryland – To be determined.
Mountainside Supper Club – $20 Gift Certificate to Dinner at Buddy Boy Winery in Duncannon.
Operation Life Saver – To be determined.
Origami Owl – A Living Locket.
PA Nut Growers Association –  PNGA hat.
Perry Heritage Collection – Books: "Life Along the Shermans" ($15) and "Ghost Towns of Perry County" ($15).
Phillip's Dairy Air Soap & MJ's Candles – Gift basket including soap and candles.
Pin Me – Fabric flower pin, magnet clothes pins, homemade cards, hair accessories, a cup cozy and some other goodies.
PNC Bank – A $15 PNC Visa Gift Card
Road Hawg BBQ – A $20 gift certificate for Road Hawg BBQ.
Rockwood Soy Company – A jar candle ($28 value).
Salvaged Soiree – 4 burlap coffee sack placemats.
Sara's Sew Creative – A set of burp cloths and bibs.
SisterDogs – $20 gift certificate to Bass Pro Shop.
Sleepy Jean Studio – A nature themed necklace and earring set made specially for this show ($25 – $30 value).
SLG Crafts – A sun catcher.
Susquehanna Appalachian Trail Club – Free T-shirt and membership ($25 value).
Susquehanna Greenway Partnership – Two metal water bottles, a bound copy of the PA Audubon's Susquehanna River Birding Trail and Guide, local maps and guides and stickers. ($20 value)
T.H.G Studio – Signed, limited edition, gi

clée

print.
Tastefully Simple – A leather tote bag.
Vagabond Polish – Basket of soap and other product.
Wildfire Pottery – Lidded jar.
York Hiking Club – To be determined.
DATC Commemorative Wooden Tokens
Anyone who donates $5 or more to the Duncannon Appalachian Trail Community will receive a free two inch laser etched wooden token to commemorate the 2014 Duncannon Blast.  These high quality tokens were made by the Susquenita Middle School as part of a Trail to Every Classroom project.  Be sure to stop by the DATC booth to get yours.

Parking and Directions
Since the Market Street bridge (near the Rt. 11-15 overpass at the south end of Duncannon) will be closed on the day of the festival, it will be best to come into town via Rt. 322.  If you are coming into town on Rt. 11-15:
The Rt.322 East exit is 3.1 miles north of the Duncannon exit.
Take the Rt.322 East exit.
Drive 1.3 miles on Rt. 322 East.
Take the Rt. 849 Duncannon exit.
Cross the Juniata River.
Go under the railroad bridge.
Keep left on Market Street.
Drive 1 mile through town.
Turn right on Ann Street near "The Pub".
Drive 2 blocks to the festival on High Street.
On the day of the festival, you can park along the streets where it is permitted or you can park in one of the lots shown on the map below.
Presbyterian Church Lot
Methodist Church Lot
God's Missionary Church Lot
Old Sled Works South Lot
Clark's Ferry Commuter Lot (2 mile scenic hike to festival)
American Legion Back Lot (walk 330 yards to festival)
(AFTER 1PM) Blue Ridge Communications Lot
Festival Vendors
Festival Friends
The following organizations have made significant donations or contributions to help fund the 2014 Duncannon Appalachian Trail Community Festival and we greatly appreciate their help.
Join the Fun
We're looking for volunteers to help make this festival a great day for everyone.  Sign up on our Volunteer Page to enjoy a fun day outside with your fellow Duncannon enthusiasts.
If you're interested in being a vendor at the festival, please go to our Vendor Registration Page for more information.

Why We Do It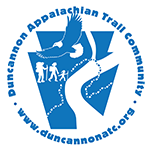 The Duncannon Appalachian Trail Community (DATC) is dedicated to promoting, protecting and preserving our outdoor recreational resources for future generations. We implement projects and programs to enhance tourism opportunities for Duncannon as an outdoor recreation destination and we encourage everyone to get outside, enjoy nature and recognize the connection between the health and abundance of the region's natural assets and the vitality of its communities.
Come out and enjoy a fun day in Duncannon!   We hope to see you there!
Stay tuned for more information about this exciting event!