Duncannon became an official Appalachian Trail Community in 2012 and we are eager to share the pride and enthusiasm of continuing to be part of a national treasure. Join us for a family-friendly festival while learning about the Appalachian Trail and other outdoor opportunities in Central PA.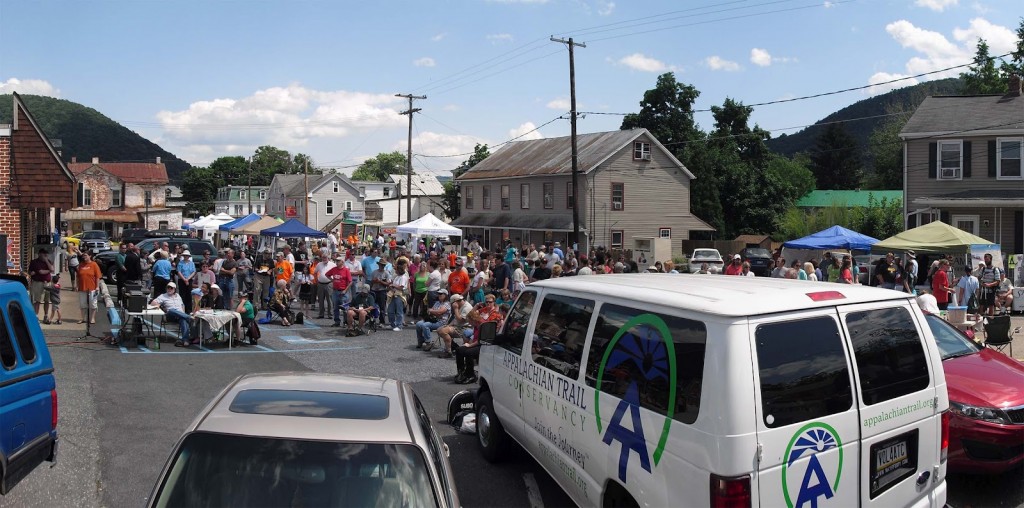 Celebrate the next annual AT Festival from 10AM to 4PM on Saturday, June 17th, 2017. There will be hikes, outdoor activities, and vendors, along with live entertainment, exhibits, and presentations near the town square on High Street between Cumberland and Ann streets.
Check Out These Awesome Attractions:
FREE!

Admission and Presentations!

Rock Climbing Wall with the Pennsylvania National Guard –

FREE!

Smokey Bear the fire prevention bear –

FREE!

Live Music –

FREE!



Birds of Prey – Shavers Creek wildlife show –

FREE!

PA Native Species – Zoo America wildlife show –

FREE!

Crafts for Kids –

FREE!



Face Painting –

FREE!

FREE!

Raffle Ticket

for every attendee! (Children must be accompanied by an adult.)
$300+ of Raffle Prizes donated by vendors
Hiking and Outdoor Clubs!
Buddy Boy Winery!
Food!

Arts and Crafts Vendors!


BRING YOUR WHOLE FAMILY!
Take a Hike!
Some hiking clubs at the festival will be leading their own hikes in the morning and they encourage you to join their clubs to participate in local Duncannon area hikes. The following hiking opportunities are open to the public until all available spaces are filled:

Easy – 7:45 to 11:00 – Haldeman Island: In cooperation with the PA Game Commission, this is a leisurely 2.5 mile hike touring the abundant wildlife of Haldeman Island. Located near the confluence of the Susquehanna and Juniata rivers, access to Haldeman Island is usually restricted to provide sanctuary for a wide variety of native Pennsylvania birds, including the iconic Bald Eagle. Make sure you bring your binoculars, camera, or spotting scope for a closeup view. Sign up early for this rare chance to enjoy an excellent hike lead by the extremely knowledgeable and informative retired PA Game Commission, Land Management Group Supervisor, Scott Bills. This hike is limited to 25 people. Please contact DATC (haldeman-hike@duncannonatc.org) to register.

Where to park

Difficult – 7:30 to 1:00 – Hawk Rock & Duncannon Tower Loop – Sponsored by the Day Hikers of Central PA, this is a brisk paced 11 mile hike over strenuous terrain with a 700 foot climb in the first mile. We will start and finish the hike at Tubby's Nightclub and hike on the AT to Hawk Rock. Then we will go down a steep descent and visit the ruins of a lumber mill in the Duncannon Watershed that features a magnificent 50-foot high stone and brick tower ("The Stack") that is still standing. Hiking poles will be helpful. You must signup for this hike through Meetup.com; It's completely free and you have until June 13th to complete the simple process.

Where to park.

Easy – 9:00 to 11:00 – Wagner Park: The Duncannon Outdoor Club will be holding a 2 mile, average paced hike on easy to moderate terrain at Wagner Park in Wheatfield Township, Perry County.  If you are unfamiliar with Wagner Park's location meet at the Geisinger Duncannon Center at 51 Business Campus Way, Duncannon at 8:45 am.  Alternately meet at Wagner Park at 9:00 am.   Call Deb at 395-2462 or email dtakach@duncannonatc.org to register.  Afterward you can opt to attend the Appalachian Trail Festival held from 10:00 am. to 4:00 pm on High Street in Duncannon.
Live Music
There will be live entertainment featured throughout the day. Stop by the main stage and enjoy:
3:00

The Rock Hollow Jam brings an eclectic variety of classic rock, country, and pop tunes from the Beatles to Neil Young, John Denver, and Jimmy Buffet. Brian is an avid hiker, trail troubadour, and promoter of the Appalachian Trail; when he hikes, he carries his Washburn Rover backpack guitar and entertains fellow hikers at shelters and hostels. He is also a member of the Appalachian Trail Conservancy, the Susquehanna Appalachian Trail Club, and the Duncannon Appalachian Trail Community.
Climbing Wall
Anyone 14 or older* can climb this HUGE rock wall!
The Pennsylvania Army National Guard is bringing their super awesome rock climbing wall to the festival and they will be there to help you climb it safely. There are difficult routes for experienced climbers and easier routes for novices. Bring your kids, your friends, and your youth groups to the Duncannon AT Festival for this exciting and adventurous experience.
Are your kids driving you crazy? Do they have you climbing the walls? Well then turn the tables on them! Bring them to the festival and let them tire themselves out climbing this rock tower. After they've had their fun, see how far you can climb. There will be people there to help and encourage you.
*Anyone under 18 must be accompanied by a parent or guardian.
Smokey the Bear
Get your picture taken with Smokey Bear!
Crafts for Kids
There are plenty of activities to keep the kids happy and entertained so bring them along for a fun day at the festival.
Wacky Hats: Wacky Hats are back! Cut a pattern on a paper plate and decorate with markers and a dash of glitter to your heart's content. We have Monster Hats, Palm Tree Hats, Glasses Hats, Castle Hats, Bee Hats, Frog Hats and more!
Tree Cookie Necklace: Design your very own tree cookie necklace and learn how to read tree cookie rings. Decorate it with markers or stamp it with ink images of your choice.

Hiking Poles: Decorate your very own bamboo hiking pole with a variety of permanent colored markers.

Fancy Fish: Design your own fish. Pick your colors and go to town. If you want, tie it to your hiking stick to make a fishing pole.

Face Painting

: Join us on a 14 station Mock AT Trail. As you arrive at a station, representing one of the fourteen states the trail passes through, engage in an activity related to that state. It will be fun for all!
Mock AT: And last but not least, come join us on a 14 station Mock AT Trail.  As you arrive at a station, representing one of the fourteen states the trail passes through, engage in an activity related to that state.  It will be fun for all!
Raffle Prizes!
Everyone will be given a free ticket just for showing up at the DATC booth on High Street and getting their hand stamped (children must be accompanied by an adult). The DATC will also be selling raffle tickets to help support the Duncannon Appalachian Trail Community so be sure to increase your odds of winning by purchasing extra tickets for $1.00 each
Parking and Directions
On the day of the festival, you can park along the streets where it is permitted or you can park in one of the lots shown on the map below.
God's Missionary Church Lot
Old Sled Works South Lot
Clark's Ferry Commuter Lot (2 mile scenic hike to festival)
American Legion Back Lot (walk 330 yards to festival)
(AFTER 1PM) Blue Ridge Communications Lot
Festival Friends
The following organizations have made significant donations or contributions to help fund the 2016 Duncannon Appalachian Trail Community Festival and we greatly appreciate their help.
Join the Fun
We're looking for volunteers to help make this festival a great day for everyone. Enjoy a fun day outside with your fellow Duncannon enthusiasts.
If you're interested in being a volunteer at the festival, please contact us for more information.
Why We Do It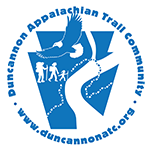 The Duncannon Appalachian Trail Community (DATC) is dedicated to promoting, protecting and preserving our outdoor recreational resources for future generations. We implement projects and programs to enhance tourism opportunities for Duncannon as an outdoor recreation destination and we encourage everyone to get outside, enjoy nature and recognize the connection between the health and abundance of the region's natural assets and the vitality of its communities.
Come out and enjoy a fun day in Duncannon! We hope to see you there!
Stay tuned for more information about this exciting event!