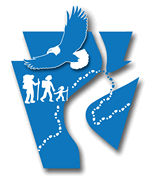 The Duncannon Appalachian Trail Community holds its committee meetings on the second Wednesday of every month at the Duncannon Municipal Building on 428 High Street in Duncannon, PA.  If you would like to receive meeting notifications, please sign up for the DATC Newsletter and select the "Meeting Notifications" option.  If you have any questions, you can contact the administrator for more information.
EVERYONE IS WELCOME!  The DATC Committee needs your thoughts, creativity and volunteerism!!!  Anyone who would like to be involved with the DATC, offer guidance or influence its policies is welcome to attend. You can find volunteer opportunities that suit you in any number of fields such as: planning our next DATC Festival, fundraising, supporting the Duncannon Outdoors Club, learning about Appalachian Trail maintenance and inspiring people to enjoy outdoor activities in the Duncannon area.
We look forward to seeing you there!