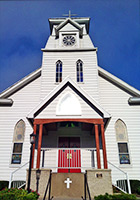 2014, June 4, 11, 18, 25 and July 2, 9, 16, 23, 30:  If you're thru-hiking the AT and you'd like some FREE food while in Duncannon during the months of June or July, be sure to stop by the Duncannon Christ Lutheran Church on Wednesdays between 5 and 7 PM for some great home cooking.  Salad, spaghetti, brownies and ice cream are always on the menu but there's a chance food made from one of these mouth-watering recipes might be available: Sauerkraut Soup, Party Mashed Potatoes, Easy Stir Fry, Pumpkin Cheese Tarts, Apple Dumpling Bake, Bread Custard Pudding, Orzo Dessert, or maybe even New York Cheesecake!
The Appalachian Trail runs along High Street and the church is conveniently located one block west off the trail near the intersection of High and Plum streets.  Be sure to stop in even if you're not hungry and say hello to the good people of Duncannon.  They want to help lift your spirits and you can do the same for them just by taking a minute to share your time and trail experiences.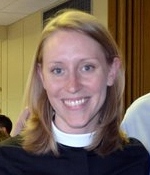 This generous outreach to thru-hikers is being lead by Pastor Beth Martini who is a strong supporter of the AT, the Duncannon Appalachian Trail Community and the residents of Duncannon.  If you live in the Duncannon area and you would like to help thru-hikers enjoy a hearty meal, please contact the church at 834-3140 or pastor@clcduncannon.org.