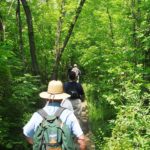 We are fortunate to live in an area that offers many different opportunities for a day hike. We have the Appalachian Trail which can be accessed from several different trail heads, Fort Hunter Conservancy, Boyd Big Tree Preserve Conservation Area, Joseph E. Ibberson Conservation Area, and Little Buffalo State Park, just to name a few.
Regardless of which area you select for a hike, a successful day hike depends on taking the time to be prepared. Anytime you step on a trail, you should be prepared with the basics, which includes: appropriate clothing, footwear, food, and equipment.
Clothing should protect you from the cold and the rain. In summer time temperatures can be cooler at higher elevations. Avoid cotton clothes which will retain moisture and opt for synthetic fabrics which are more "breathable".
Shoes should fit well and be broken in. On a day hike, a pair of broken in sneakers can be a better choice than brand new hiking boots.
Food and water are indispensable, even on a day hike. Apples, oranges, energy bars, or whatever foods you like should be part of every hike. Just remember, be sure to pack out all of your garbage, including apple cores and orange peels, and wrappers.
Take a few minutes before you head out on the trails to pack the following items:
Map and compass (make sure you can use them)
Water (1 quart minimum per person, 2 or 3 quarts on longer hikes in hot weather)
Food
First aid kit (with tweezers to remove ticks)
Whistle (three blasts is the international signal for help)
Garbage bag (to pack out trash)
Sunglasses and sunscreen
Blaze orange hat (in hunting season)
Insect repellent
Trowel, toilet paper, and hand sanitizer
Cell Phone
Proper planning and preparation will make your trail experience as enjoyable as possible.