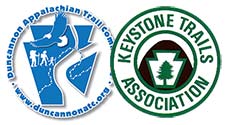 The Duncannon Appalachian Trail Community recently rejoined the Keystone Trails Association (KTA) which was founded in 1956 to protect and promote all of Pennsylvania's hiking trails. With the help of hiking groups and their members, KTA builds and preserves trails and also interacts with state agencies and the legislature to maintain a vocal presence in Harrisburg and stand up for the interests and concerns of hikers.
KTA organizes numerous events in Pennsylvania to encourage people to appreciate and enjoy nature and our woods. KTA members and guests recently spent the weekend in Wellsboro for the spring hiking event and they were out on the trails despite record low temperature and 3 inches of snow. Upcoming activities are:
4/26-7:

Boundary Work on the AT

5/13-15:

Trek The Tiadaghton hiking weekend at Little Pine State Park

6/5-9:

Allegheny Front Trail Slackpack

7/29-31:

Prowl the Sproul hike weekend

9/23-25:

Quehanna Elk Quest.
There are many planned weeks and weekends to work on the trails. You can learn more about KTA on the KTA website, the KTA Facebook page or by visiting the KTA office located at 46 E. Main St in Mechanicsburg. Stop by to say hello and join the umbrella group that represents all of the hikers in Pennsylvania.