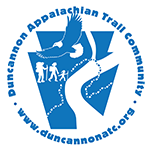 The Duncannon Appalachian Trail Community Advisory Committee will hold its next meeting at 6:30 PM on Monday July 22nd, 2013 near the bar in Sorrento's Pizza. Please note this change in meeting location!  Join us for some FREE PIZZA and share your experience with us.  RSVP is not required but is greatly appreciated.
This meeting's agenda will primarily focus on next year's 2014 Duncannon A.T. Community Festival. We'll discuss the past 2013 DATC Festival Survey results and cover topics such as:
A better date or time of year.
How to attract more people.
Catering to the needs of hikers.
Getting younger people involved.
Making it a better experience for vendors, volunteers and attendees.
Promoting the DATC to increase membership and participation.
What we must do right now to get on top of the 2014 festival.
Anyone who wants to be involved with this organization, offer guidance or influence its policies is welcome to attend. You might find a volunteer opportunity that suits you in any number of fields such as: planning our next 2014 DATC Festival, fundraising, supporting the Duncannon Outdoors Club, learning about Appalachian Trail maintenance and inspiring people to enjoy outdoor activities in the Duncannon area.
We hope to see you there!