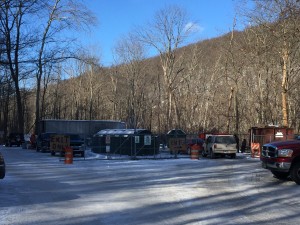 The second Saturday of each month our community has the opportunity to dispose of recyclable materials, saving tons of waste from going to a landfill.  From 8-11am at the Recycling Center in Penn Township, alongside Shermans Creek, recyclable materials can be dropped off.  This is the same parking area used to access one of our favorite hiking destinations, Hawk Rock.  Borough residents can set recyclables at their front doorstep for pickup, as well.
Duncannon's very own Boy Scout Troop 64 is to thank for this time consuming, tough and dirty work.  The Troop's efforts in keeping Duncannon green date back to the 1940's!  Funding for recycling in the 17020 zip code comes from Penn Township and the Duncannon Borough.  At one time this project was conducted in the parking lot of the Old Sled Works on North Market Street in the borough.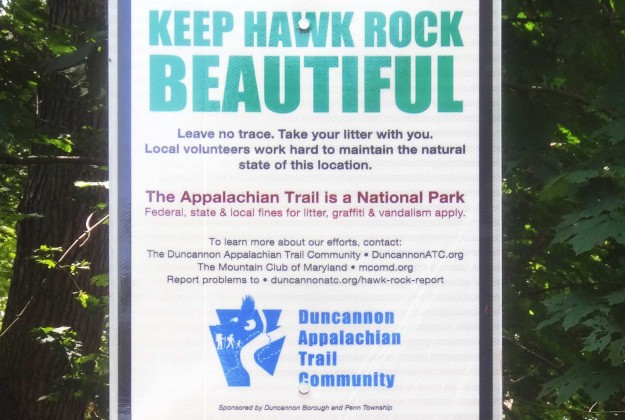 This past Saturday, February 13, most of us had no thoughts of climbing out from under our warm blankets. The temperature was single digit and the winds were gusting between 20 and 40 miles per hour! Yes, the sun was shining bright but if you did not have to go outside, you probably did not.  These conditions did not stop the scouts and their helpers to be at the Recycling Center before 8, bundled up awaiting tons of recyclables to be delivered.  After all they have been doing this for more than 70 years!
At one time recyclable material had more monetary value than it does today.  Also, the many rules for sorting and separating that are required now, did not exist.  These changes have not discouraged the Troop from completing the tedious work.  Residents can make the work easier for everyone involved by breaking down containers, sorting papers and separating items by the code or color.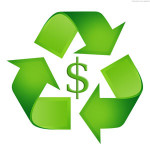 Money can still be collected for certain materials today such as aluminum cans.  Paper once put money back in the pocket of these dedicated scouts.  Today our paper is being sent to a Perry County farmer to be used for bedding material.  At one time there was enough money being returned to the Troop that individual scouts could earn credit for their hard work and dedication.  Scouting supplies could be purchased or camping trips paid for. This was great incentive for the young boys to continue working toward their goals.  Today, with less monetary incentive, they continue to take pride in their work and have a positive influence in their community.
Thank you and keep up the great work Boy Scout Troop 64!  Also, thank you to the Duncannon community for keeping our town green!